Today: If warm weather was an herb, it would be basil -- here's how to make the best of it. There's no way around it.
We eat a lot of basil when the weather is warm -- and for good reason. Basil is bright, it's cool, it's refreshing; it reminds us of fresh cocktails with crushed ice and hot pizza with cold beer; it turns otherwise humdrum salad greens vibrant, and ice cream, extraordinary. But, it's often hard to remember all of the tricks basil has up its sleeve -- that it's capable of more than pesto and garnish. With this in mind, our community was asked how they like to use basil, and they had plenty of ideas to share: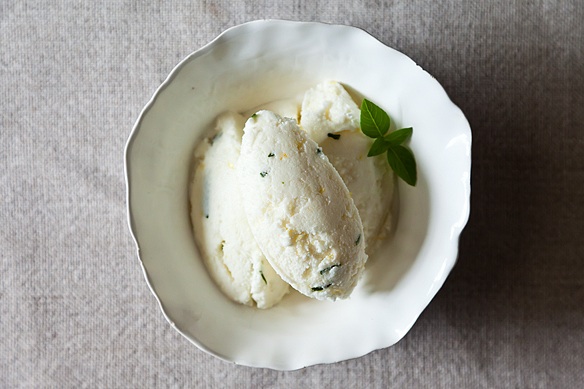 *For a tomato sauce, I add dried basil (yes!) to the initial mix, then stir in fresh chopped basil at the very end. For burgers, try mixing a lot of chopped basil with the meat before cooking. Because not a lot of heat reaches the center of the burger, you'll still have that fresh spicy flavor when you bite into it, " says Nancy Harmon Jenkins. She declares basil: "good with almost anything, but especially with anything meaty or tomato-y," and cautions that "fresh basil, like fresh cilantro, has an ephemeral flavor that tends to disappear with long cooking *Pierino sticks to a classic: pizza. Chiffonade, or tear, the basil and sprinkle it on top of your pie as soon as it comes out of the oven *If your vegetables need a boost, cookbookchick has the answer: "Cook some fresh green beans, and while they're cooking, melt some butter in a small pan, letting it it cook until it is nutty brown. Cut or tear the basil into small pieces or a chiffonade. When the beans are done, drain them well, toss them in the browned butter, add a little salt, the basil, and serve. So delicious!" *While we're on the butter train, let's try Kristen W.'s idea for herb butter -- simply pulverize the basil and mix it with butter. Then, roll it into a log and freeze it, cutting off portions each time you want to use it. * Looking for something spicy? Basil is the perfect cool complement, according to savor this, who often uses this basil condiment on top of rice bowls with grilled meat or fish.
HalfPint loves to incorporate basil into Caprese skewers with Italian sausage, mozzarella Boconcini, and grape tomatoes once they're in season. As a condiment, she crushes basil with sea salt, lemon zest, and garlic, to sprinkle on chicken, fish, and eggs. Keep it cool with basilcello, says Wish. There's no better way to enjoy the warm weather -- unless you'd prefer to cool down with lime and basil sorbet, like Sophia R. Chef David's elixir sounds like the perfect party starter: "Take fresh basil and berries, pulse in the food processor, then press through a fine mesh strainer. Press a bit of water through and repeat until juice is rendered. Add a light ginger or cinnamon simple syrup to taste, then finish off with carbonated water." We're all for Grey's idea for fish and chips, eaten alongside a rough chopped basil salad with onion, tomato, and Tarragon vinegar. Photos by James Ransom.